Images: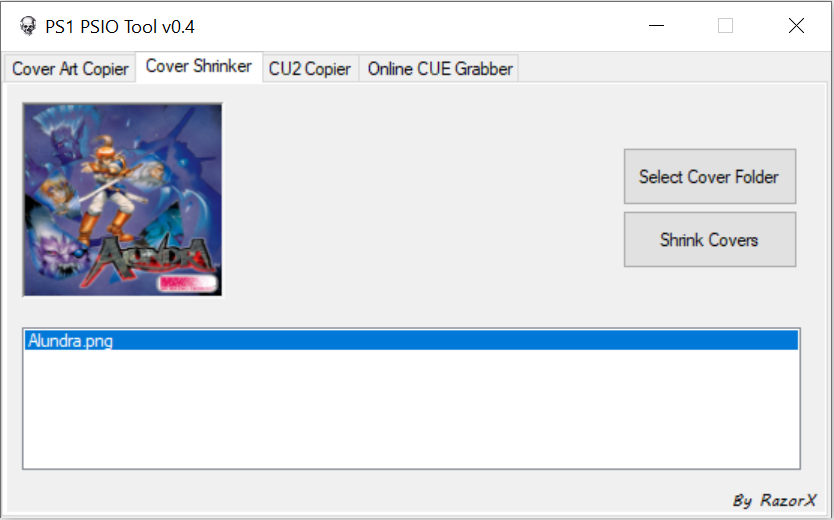 Old Images: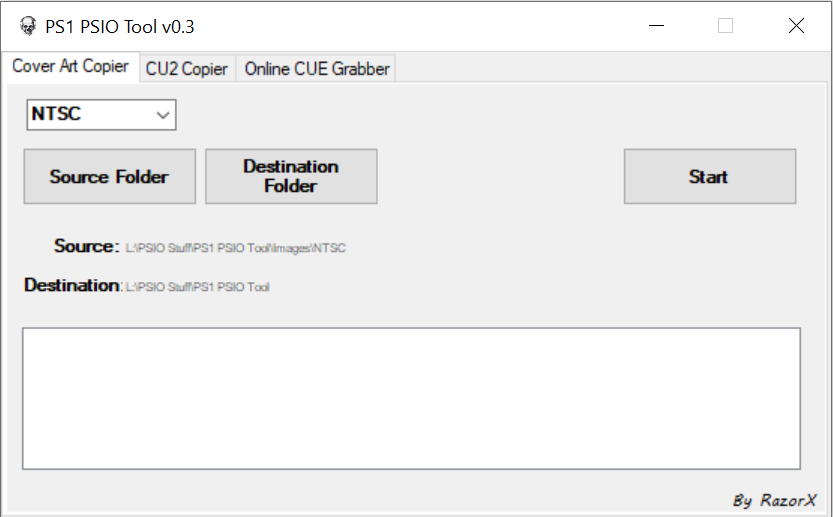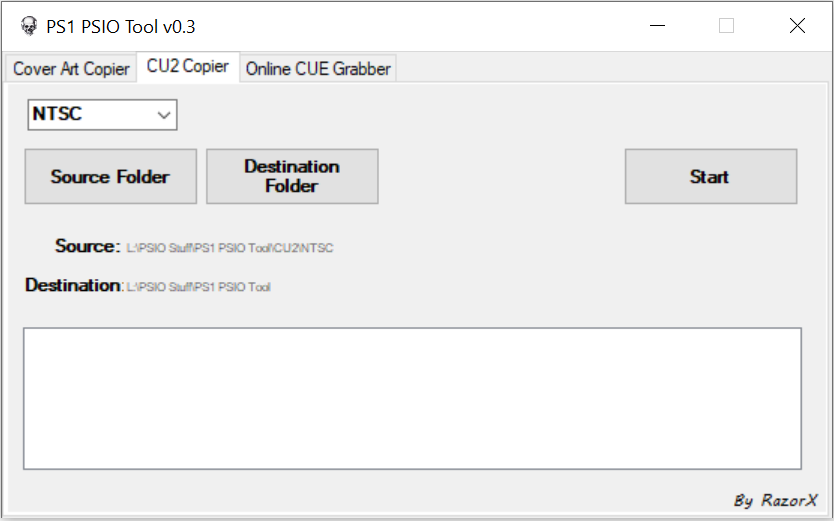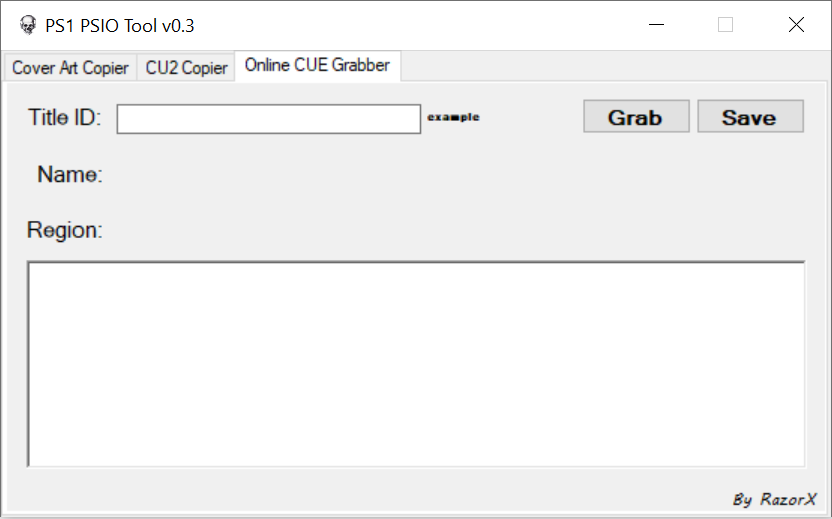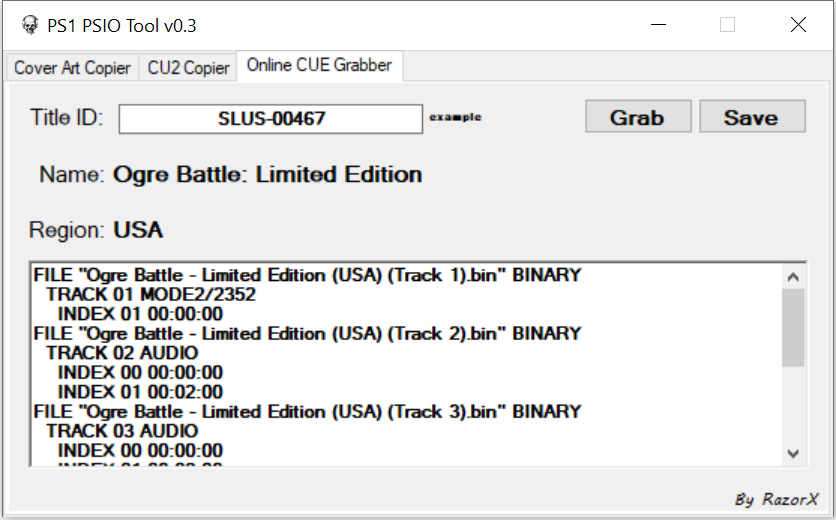 This app is really easy to use and include covers and cu2 files from this community but feel free to replace them if you wish to use your own, Just make sure to keep the file structure as is.
I will explain more further down.
Cover Art Copier:

How it works is it will look in the following location for .bmp's:

\Images\JAP\*.bmp

\Images\NTSC\*.bmp

\Images\PAL\*.bmp

The region can be changed in the top left, Please keep this folder structure but if you want to replace the bmp's with your own collection that's fine to do.

Selecting the 'Source Folder' button will let you select a folder location for your PSIO images but please ensure that the folder location you select contains the 'NTSC', 'JAP' and 'PAL' folders containing bmp files but know that this isn't needed to be pressed as is because the default location is set to the included NTSC folder by default and by changing the region from the dropdown box you can change where it looks.

Pressing the 'Destination Folder' button will let you pick the folder containing your Redump or other collection of PS1 iso's, It needs to be laid out something like this to work:

\"Any Folder Name Here"\1Xtreme (USA)

Once the 'Source Folder' and 'Destination Folder' is set you simply click start and it will do the following:

Take the name from each bmp (not including the extension) for example if you have NTSC selected and it finds '1Xtreme (USA).bmp' in \Images\NTSC it will look in your destination folder for a folder called '1Xtreme (USA)' and copy the '1Xtreme (USA).bmp' to that location, It will also check if there is a (Disc 1) to (Disc 6) associated with each image so if you have an image called 'Armored Core - Master of Arena (USA).bmp' for example it will detect that there is a folder called 'Armored Core - Master of Arena (USA) (Disc 1)' and 'Armored Core - Master of Arena (USA) (Disc 2)' and copy the image to those folders and name that image with the (Disc 1) attached and likewise for the other discs.

While this is copying the various images to the game folders it will show a progress bar in the bottom left and once the process is complete you will get a popup saying done and you will see there is a folder created in the same location as this exe called \"You PS1 ISOS Folder Name" Logs\ and in that will be three txt files called:

Already Exists.txt

Copied.txt

Doesn't Exist.txt

As the text names suggest the first one tells you which bmp's were skipped because they already existed, The second tells you all the bmp's that it copied over and the third tells you which folders it could find matching the bmp name.

This could simply be something as small as renaming the games folder or renaming the bmp or it could also mean you simply don't have that game but going through the list will help you figure that out.

If you select a 'Source Folder' and 'Destination Folder' manually it will save these settings to a 'Cover_Art.cfg' in the Configs folder in the same location as the exe, it will also save this 'Cover_Art.cfg' when exiting the app.
Cover Shrinker:

With this option you simply select a folder containing the ps1 covers you would like to shrink to 80x84 24bit bmp's at which point it will list all of the images inside that folder in the listbox and if you like you can click any image to see a preview although this isn't necessary, Now simply click 'Shrink Covers' and it will create a folder with the same name as the one you selected with '_shrinked' added to the end and it will shrink all the images to the appropriate size and format and put them in this folder ready to use.

Your folder containing the covers can be anywhere and the folder it creates will be in the same location as the one you selected.
PSIO CU2 Copier:

I will keep this one brief as it is basically the same as the Cover Art option only instead with CU2 files of which it also contains, These again can be replaced if you with but just be sure to again keep the file structure to this:

\CU2\JAP\*.cu2

\CU2\NTSC\*.cu2

\CU2\PAL\*.cu2

Other than that you use it exactly the same as the first app and it will take the name of the cu2 file and copy it to the matching folder name, So for example it will take:

\CU2\NTSC\1Xtreme (USA).cu2

And copy it to a folder in the destination location matching '1Xtreme (USA)', Again with this app it will save your logs and save the 'CUE_Grabber.cfg' for you.
Online CUE Grabber:

With this option you simply enter the PS1 games Title ID and click grab and it will get the CUE info from redump.org and show you the CUE info for you to look at and then you just click save and it will allow you to save the .cue file, By default it will name the cue file as the following:

'Game Name From Redump' ('Region from Redump').cue
I really hope you guys find this app useful and use them to save yourself some time setting up your PSIO, Enjoy

Downloads:
PS1 PSIO Tool Created By RazorX.7z